MenlaScan Pro Mt Pleasant SC
The MenlaScan Pro is an innovative measurement and analysis health system our Mt Pleasant SC chiropractic clinic uses as a tool to provide added value in terms of prevention, counseling, and health care.
---
More Information about the MenlaScan Pro in Mt Pleasant SC
The MenlaScan Pro is a multi-frequency segmental body composition 3D analyzer. The system works based on functional, physiological data measured in a few minutes. The information obtained is processed by software to provide a quick overview of the status of health and cohesion of any possible complaints. The innovative system is used by approved healthcare professionals such as nutritionists, orthomolecular, osteopaths, physiotherapists, (sports) doctors, (mental) coaches, etc.
The analysis provides an overview of lifestyle areas such as nutrition and supplementation, diabetes, pH and electrolytes, organ functionality, mental and hormonal charts, and sports and exercise.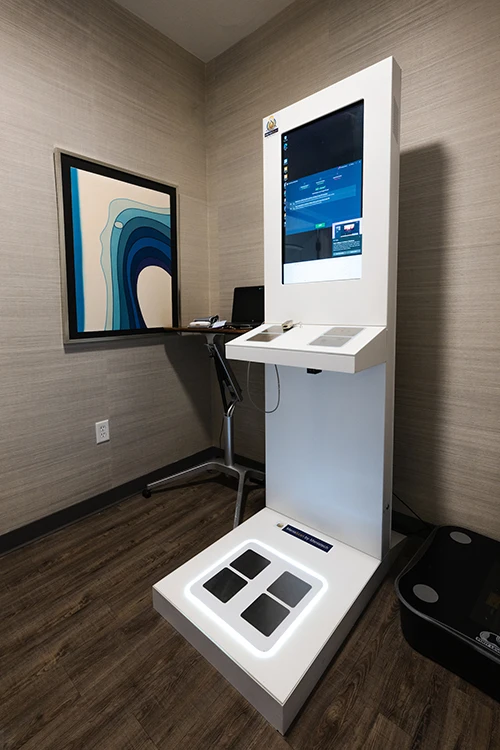 This system also displays information in certain modules on the cardiovascular level, the autonomic nervous system, etc.
Results are displayed on a screen and are easily interpretable for both the patient and the practitioner in an effort to simplify the path to optimal health. To learn more about the technology, visit the MenlaScan Pro website by clicking here.
---
Ready to take the next step toward optimal health?
At My Chiro iQ Chiropractic, we utilize a variety of scientifically based treatments and therapies to relieve pain and help our patients achieve – and maintain – a healthy lifestyle. We serve patients from Mt Pleasant, Isle of Palms, Sullivan's Island, Daniel Island and the entire Charleston metro area. Contact us today to learn more about how massage therapy and chiropractic treatment can benefit you. Call: (843) 766-4444
OFFICE HOURS
---
Monday
1:00pm - 6:00pm
---
Tuesday
8:00am - 5:00pm
---
Wednesday
8:00am - 5:00pm
---
Thursday
8:00am - 5:00pm
---
Friday
Closed
---
Saturday & Sunday
Closed